Singapore is a highly industrialized country which is one of the top countries with high population density. Trees and vegetation can be found in every block but is limited in every multi-storey residential building like HDBs and Condominiums. The projects aims to promote local hdb/condo residents to implement and improve their existing aquariums into a sustainable aquaponics which helps to reduce the carbon footprint and reduce the water usage.
Project Proposal
1. High-level project introduction and performance expectation
The project aims to encourage and inspire households and small to medium businesses in Singapore with traditional aquariums or soiled plants to upgrade them into a smart aquaphonics system. The system reaps the benefits from the coexistence of fishes and plants in one mutual environment coupled with the monitoring of critical aquarium and plant metrics ensuring that the system is kept at balance all the time. With the availability of this system, every household or business establishment can reference to this design for their own customized implementation. The project targets to be low cost and publicly available for use and implementation in Singapore parks.
The application scope is limited to non-edible freshwater fishes and specific plants that can survive in water only environment. The project proposes a sustainable system to reduce the use of resources from frequent water change in a tank where fish population is either more or by need of maintenance. This system will utilize plants to control the ammonia level while benefiting from the aquatic wastes. With this mutual coexistence and dependency, the system's balance is critical to one another and therefore requires timely monitoring to keep both in optimum level. This together will help to minimize the overall environmental impact as well as promote plants to reduce the carbon footprint. Households and businesses which use aquariums for display are the targeted users for this project.
We are using FPGA in this project because of it's parallel execution capability which can execute several sensor data acquisition together and process those data independently. We used an Intel FPGA for the design because of the ease of use of its tools with lots of available tutorials and information online. I am also very familiar with Intel's website and support system.

2. Block Diagram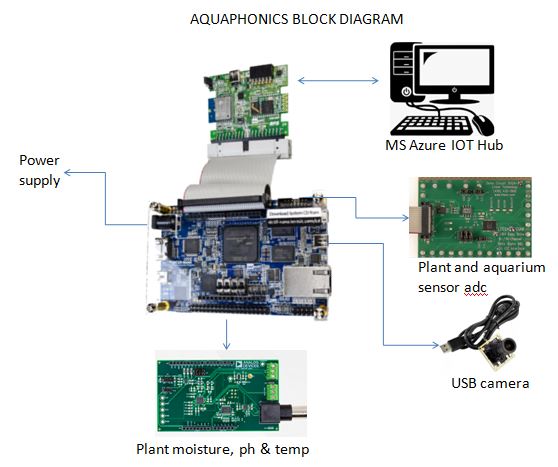 3. Expected sustainability results, projected resource savings
I. WATER PH MONITORING
The system will acquire water PH value and ensures water PH is within 6.5 and 7.5 all the time. If it goes out, an alarm will be provided so the user can react.

II. ABSORBED OXYGEN LEVEL
The system monitors the dissolved oxygen level and regulates through pump. Dissolved oxygen level will be kept optimum at 5 mg/L or more.

III. WATER FLOW MONITORING
The system monitors flow and ensures water level on plants are at 5liters per min.
IV. WATER TEMPERATURE
The system will monitor the water temperature is within 24 deg C to 27 deg C.
V. AQUARIUM LED LIGHT
System will light up when the time passes 8pm and turns off at 4am.
VI. AMONIA ALERT SYSTEM
System will monitor ammonia level of 0.02ppm and alert for solution or water change. This will be monitored visually using camera.
VI. SAVINGS FROM AUTOMATED CONTROL
System can benefit from estimated 70% cost reduction from reduced labor and resources from maintenance.
4. Design Introduction
5. Functional description and implementation
6. Performance metrics, performance to expectation
7. Sustainability results, resource savings achieved
8. Conclusion